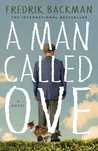 A Man Called Ove by Fredrik Backman
My rating: 5 of 5 stars
A Man Called Ove
By Fredrik Backman
Reviewed by Jay Gilbertson
Man. If you have not heard of this author, Backman, you are in for a major treat. Major. Over the holidays my mom handed this off to me and said to 'just give it a look.' Right. I read it in like three bites and am going to read everything this author has even thought of writing. Hard to explain his particular technique. First off, this story is fiction, takes place in Sweden and centers around a really unusual character. Ove.
Early on, as the story begins to weave its magic, you learn that Ove's wife, Sonja, has passed away. How and why and all that surrounds it will be shared in little bits as you move along through Ove's life in the row house he has occupied for a very long time. To say the man is anal—set in his ways like a train to a track, is honestly putting it lightly. Within this tight framework that will completely envelop you, in waltz the most colorful and kind and broken and overweight and pregnant and needy neighbors. Together they forge a family of misfits that will steal your breath away.
But it's the love and loss he holds in his enormously huge heart for Sonja and their unborn child that carries him on.
"And she wept. An ancient, inconsolable despair that screamed and tore and shredded them both as countless hours passed. Time and sorrow and fury flowed together in stark, long-drawn darkness. Ove knew there and then that he would never forgive himself for having got up from his seat at that exact moment, for not being there to protect them. And knew that this pain was forever."
Though the bulk of the story is told in third person; Ove did this, Ove kicked that tire and so forth, many of the kernels filled with gold are given life through author Backman's snappy dialog.
"Good Go—are you crying now?" Ove asks in amazement. "I'M NOT BLOODY CRYING!" she howls, her tears spattering over the dashboard. Ove leans back and looks down at his knee. Fingers the end of the paper baton. "It's just such a strain, this, do you understand?" She sobs and leans her forehead against the wheel as if hoping it might be soft and fluffy. "I'm sort of PREGNANT! I'm just a bit STRESSED, can no one show a bit of understanding for a pregnant bloody woman who's a bit STRESSED?!"
The pacing of the novel was at first a little tricky to get used to; leaping from present to the past and back again, but after a few chapters, you get the rhythm and fall for Ove and can't seem to stop flipping pages. Throughout the novel are little life lessons all woven into the utterly amazing world of Ove. A world full of need. And it is that single thing that gives him a reason to live without his dear Sonja.
Even if you choose to not read this novel, take this with you;
"One of the most painful moments in a person's life probably comes with the insight that an age has been reached when there is more to look back on than ahead. And when time no longer lies ahead of one, other things have to be lived for. Memories, perhaps. Afternoons in the sun with someone's hand clutched in one's own. The fragrance of flowerbeds in fresh bloom. Sundays in a café. Grandchildren, perhaps. One finds a way of living for the sake of someone else's future. And it wasn't as if Ove also died when Sonja left him, He just stopped living."
But you, dear reader, have not. Now go and get you some Ove!